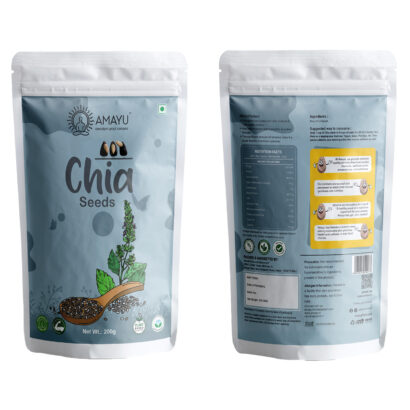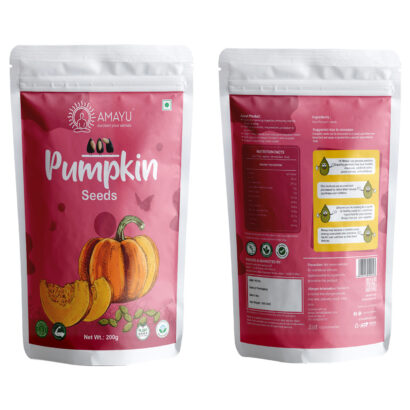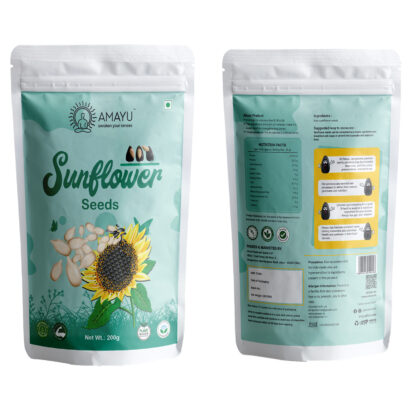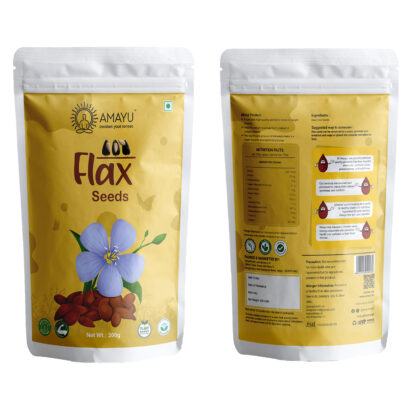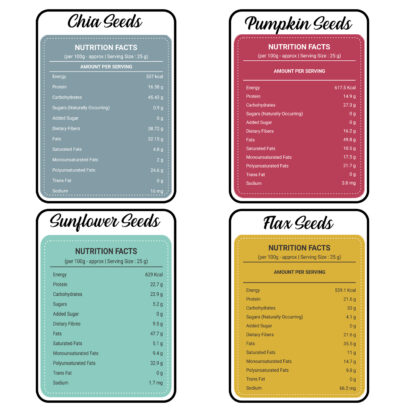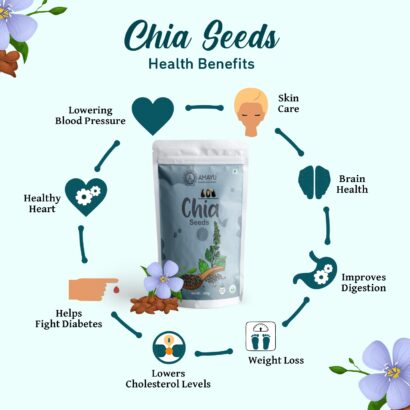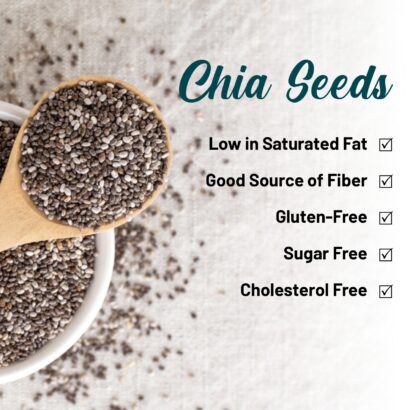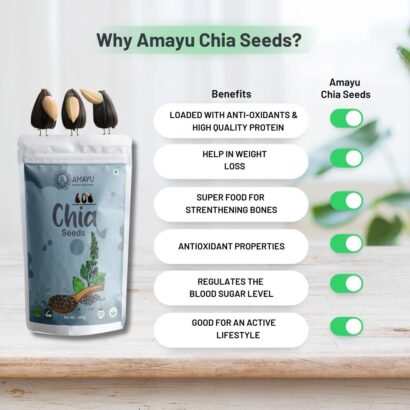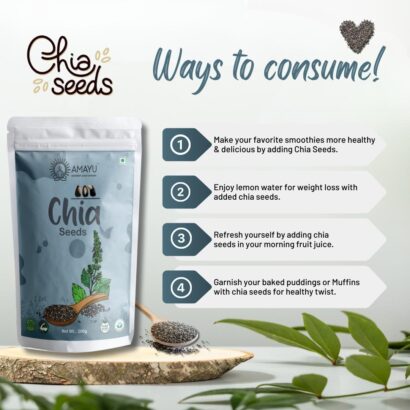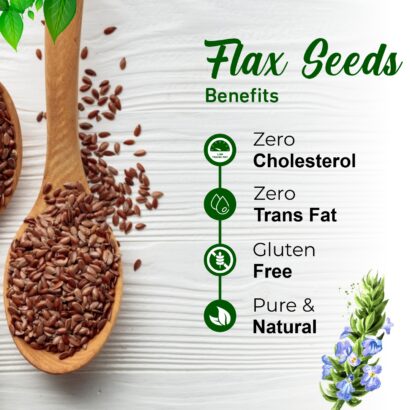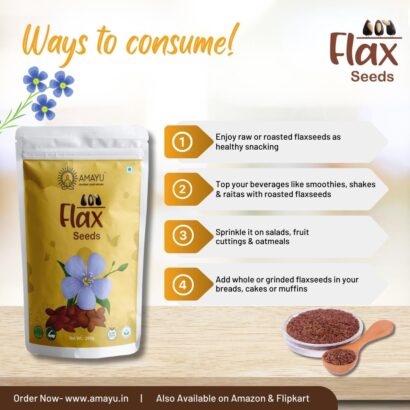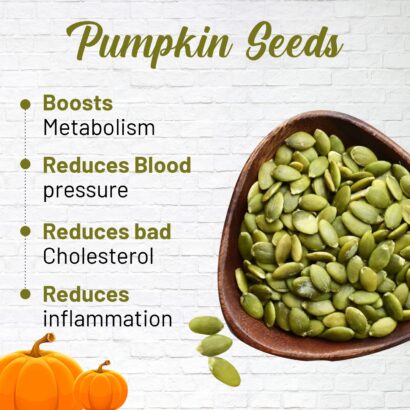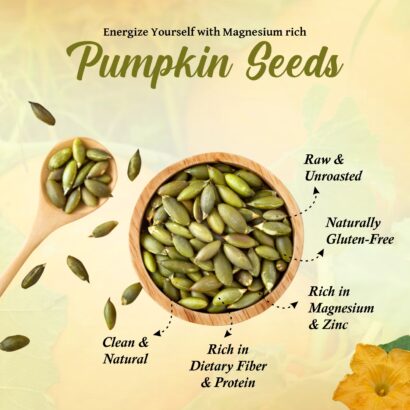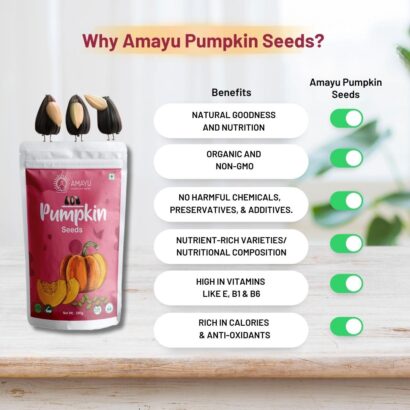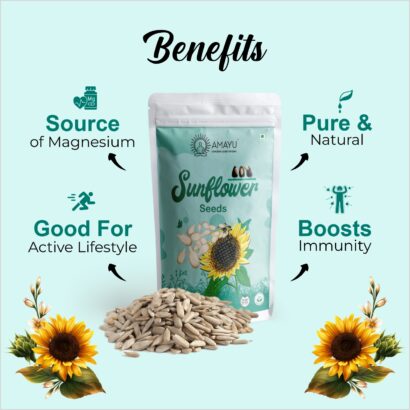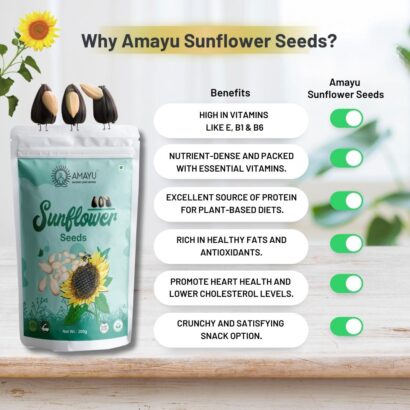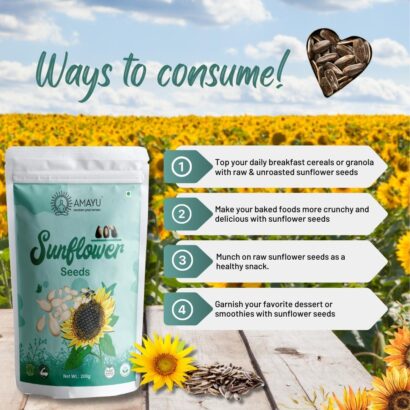 Raw Chia Pumpkin Sunflower Flax Seeds
Chia, Pumpkin, Sunflower and flax seeds are brought to you in an attractive combo by AMAYU. The seeds are a healthy snack for daily consumption for people of any age from the young to the old. A zipper packaging is provided in pouch packaging for the seeds. Store the seeds in a cool and dry spot. You may consume the seeds raw or roasted whichever is preferred
View More
FREE SHIPPING ON ORDERS ABOVE RS 499!
Looking for a healthy snack that packs a powerful punch of nutrition? Look no further than our combo of raw chia seeds, pumpkin seeds, sunflower seeds, and flax seeds! Chia seeds are a great source of omega-3 fatty acids, fiber, and protein, making them a perfect addition to any meal or snack. Pumpkin seeds are loaded with antioxidants, magnesium, and zinc, making them great for heart health and immune support. Sunflower seeds are high in vitamin E, which promotes healthy skin and eyes, while flax seeds are an excellent source of plant-based omega-3s, lignans, and fiber. Together, these four seeds make a delicious and nutritious combination that can be sprinkled on top of yogurt, salads, or oatmeal, or simply enjoyed on their own as a satisfying snack. Plus, our raw seeds are free from any added oils or preservatives, ensuring you get all the health benefits without any unwanted extras. Try our seed combo today and feel the power of nature in every bite!
Chia Seeds: Energy: 537 Kcal; Protein: 16.58g; Carbohydrates: 45.43g; Sugars (Natural): 0.9g; Added Sugar: 0g; Dietery Fiber: 38.72g; Fats: 32.15g; Saturated Fats: 4.8g;
Monounsaturated Fats: 2g; Polyunsaturated Fats: 24.6g; Trans Fat: 0g; Sodium: 16mg,
Pumpkin Seeds: Energy: 617.5 Kcal; Protein: 14.9g; Carbohydrates: 27.3g; Sugars (Natural): 0g; Added Sugar: 0g; Dietery Fiber: 16.2g; Fats: 49.8g; Saturated Fats: 10.5g
Monounsaturated Fats: 17.5g; Polyunsaturated Fats: 21.7g; Trans Fat: 0g; Sodium: 3.8mg,
Sunflower Seeds: Energy: 629 Kcal; Protein: 22.7g; Carbohydrates: 22.9g; Sugars: 5.2g; Added Sugar: 0g; Dietery Fiber: 9.5g; Fats: 47.7g; Saturated Fats: 5.1g;
Monounsaturated Fats: 9.4g; Polyunsaturated Fats: 32.9g; Trans Fat: 0g; Sodium: 1.7 mg,
Brown Flax Seeds:Energy: 539.1 Kcal; Protein: 21.6g; Carbohydrates: 33g; Sugars (Natural): 4.1g; Added Sugar: 0g; Dietery Fiber: 21.6g; Fats: 35.5g; Saturated Fats: 11g;
Monounsaturated Fats: 14.7g; Polyunsaturated Fats: 9.8g; Trans Fat: 0g; Sodium: 66.2mg
Rich in nutrients: All four seeds are excellent sources of various nutrients, including vitamins, minerals, fiber, and healthy fats, which can help support overall health and wellness.,
May aid in digestion: All four seeds are high in fiber, which can promote healthy digestion, prevent constipation, and support gut health.,
May help reduce inflammation: All four seeds contain antioxidants and anti-inflammatory compounds, which can help reduce inflammation in the body and potentially lower the risk of chronic diseases.
May support heart health: All four seeds contain healthy fats, including omega-3 and omega-6 fatty acids, which can help lower cholesterol levels, reduce the risk of heart disease, and support overall cardiovascular health.
| | |
| --- | --- |
| Weight | 0.800 kg |
| Dimensions | 10 × 2 × 14 cm |