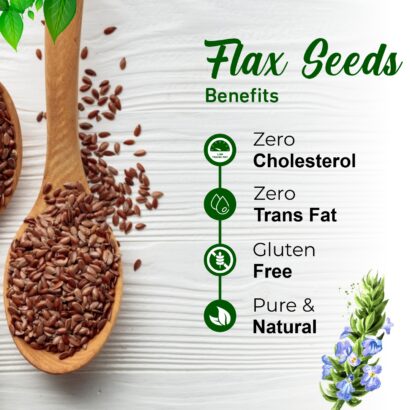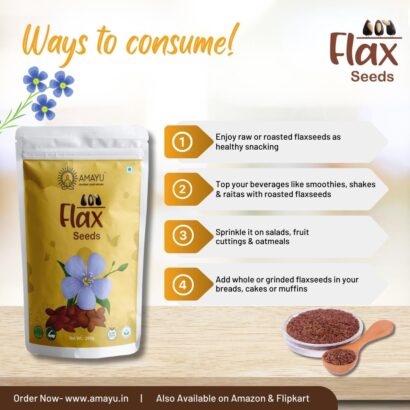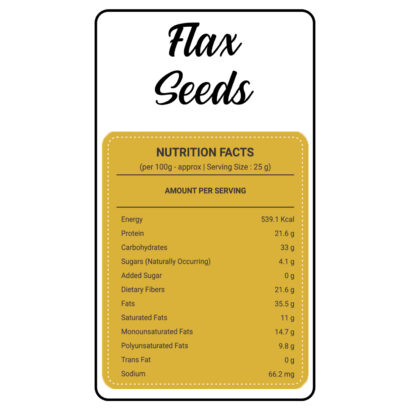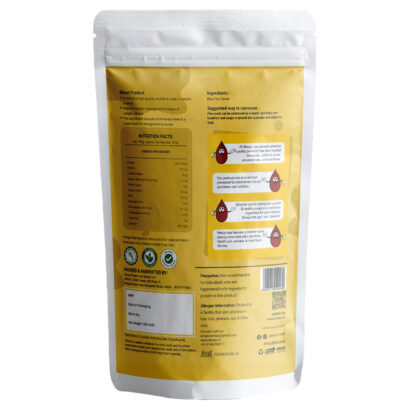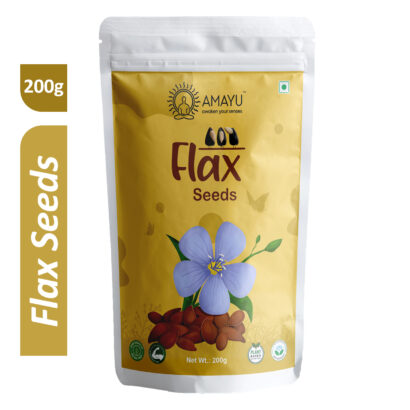 Raw Flax Seeds 200Gms
Amayu Raw Flax Seeds (also known as Alsi seeds) are high-quality and purely natural seeds derived from the organically grown plants. Because of the presence of omega-3 fatty acids in Alsi seeds, it can be really helpful in weight loss and enhancing skin health. This seeds mixture is also helpful for hair growth. This super seed act as a healthy protector and is an amazing source of protein and fibre. Small, shiny and flat these tiny seeds can become your go-to snack and may be consumed in any way, adding a nutritional punch to your diet.
View More
FREE SHIPPING ON ORDERS ABOVE RS 499!
These seeds help in weight management and boosting immunity system. These seeds also prevent hair fall and constipation and are good for digestion. Amayu serves its products to those who like enjoying the food in its very own natural form made of natural ingredients. No Fillers, no preservatives, nothing artificial. Add these to your oats, oatmeal, muesli, granola, flakes, quinoa, ice-cream, yoghurt to enjoy your important meal of the day.
Energy: 539.1 Kcal; Protein: 21.6g; Carbohydrates: 33g; Sugars (Naturally Occuring): 4.1g; Added Sugar: 0g; Dietery Fiber: 21.6g; Fats: 35.5g; Saturated Fats: 11g; Monounsaturated Fats: 14.7g; Polyunsaturated Fats: 9.8g; Trans Fat: 0g; Sodium: 66.2mg

Rich in nutrients: Flax seeds are a great source of nutrients such as omega-3 fatty acids, fiber, lignans, & other essential vitamins & minerals. These nutrients provide numerous health benefits, including improved heart health, digestion, & immune function.

May help reduce risk of certain diseases: Studies have suggested that consuming flax seeds regularly may help reduce the risk of various diseases, including heart disease, diabetes, & some types of cancer. This is likely due to the high levels of omega-3 fatty acids & lignans in flax seeds, which have anti-inflammatory & antioxidant properties,

May improve digestive health: The fiber content in flax seeds can help improve digestive health by promoting regular bowel movements and reducing the risk of constipation.

Additionally, the lignans in flax seeds may help reduce inflammation in the digestive tract, Flax seeds are a versatile ingredient that can be incorporated into a variety of dishes. They can be added to smoothies, sprinkled on top of yogurt or oatmeal.

Raw Flax Seeds | Healthy Edible Seeds, Rich in Omega 3 Fatty Acid | Weight Loss
| | |
| --- | --- |
| Weight | 0.200 kg |
| Dimensions | 13.4 × 6.3 × 12.5 cm |
| color | Black, Blue, Gray, Green, Red, Yellow |