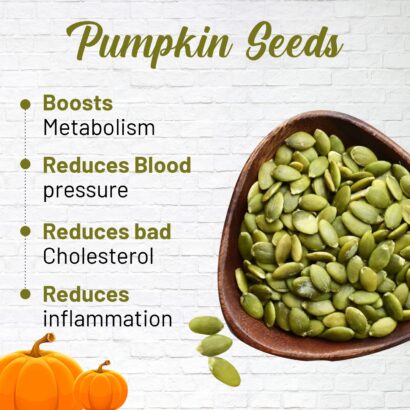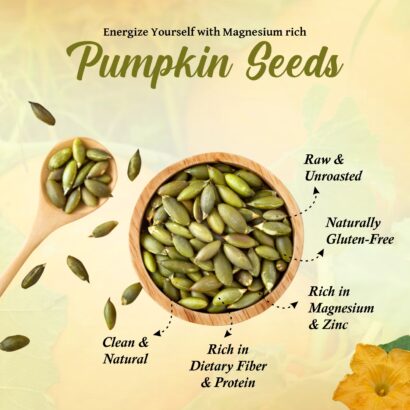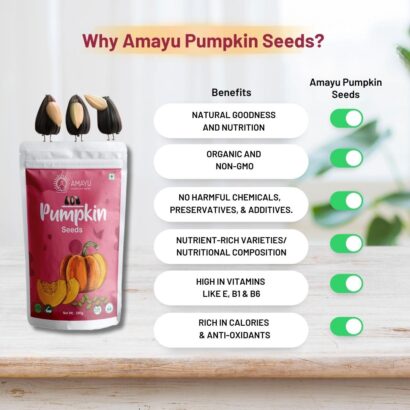 Raw Pumpkin Seeds 200Gms
Amayu Raw Pumpkin Seeds are highly nutritious and beneficial for the entire body. These edible Pumpkin seeds are jumbo seeds and unprocessed. Amayu Raw Pumpkin Seeds are purely natural. With the quantity of pumpkin seeds 200 gm, which consists of Amayu pumpkin seeds that possess a mild nutty taste, which cannot resist you from wanting it more and has a firm texture.
View More
FREE SHIPPING ON ORDERS ABOVE RS 499!
They are an appetizing yet guilt-free snack which help in weight management, enhance skin health, helps in maintaining a healthy heart health and maintain blood sugar levels. Amayu serves its products to those who like enjoying the food in its very own natural form made of natural ingredients. No Fillers, no preservatives, nothing artificial. Add these to your oats, oatmeal, muesli, granola, flakes, quinoa, ice-cream, yoghurt to enjoy your important meal of the day.
Energy: 617.5 Kcal; Protein: 14.9g; Carbohydrates: 27.3g; Sugars (Naturally Occuring): 0g; Added Sugar: 0g; Dietery Fiber: 16.2g; Fats: 49.8g; Saturated Fats: 10.5g; Monounsaturated Fats: 17.5g; Polyunsaturated Fats: 21.7g; Trans Fat: 0g; Sodium: 3.8mg

Nutrient-rich: Pumpkin seeds are a rich source of nutrients, including protein, fiber, healthy fats, and minerals such as magnesium, zinc, and potassium.

Promote heart health: The high levels of healthy fats in pumpkin seeds can help lower cholesterol levels and reduce the risk of heart disease.,

Support immune function: Pumpkin seeds contain antioxidants such as vitamin E, which help support the immune system and protect against oxidative stress.,

Anti-inflammatory properties: The phytochemicals in pumpkin seeds, such as cucurbitacin, have anti-inflammatory properties that can help reduce inflammation in the body, potentially reducing the risk of chronic diseases such as cancer and arthritis.

Raw Pumpkin Seeds | High in Protein | Healthy Pumpkin Seeds
| | |
| --- | --- |
| Weight | 0.200 kg |
| Dimensions | 13.4 × 6.3 × 12.5 cm |
| color | Black, Blue, Gray, Green, Red, Yellow |