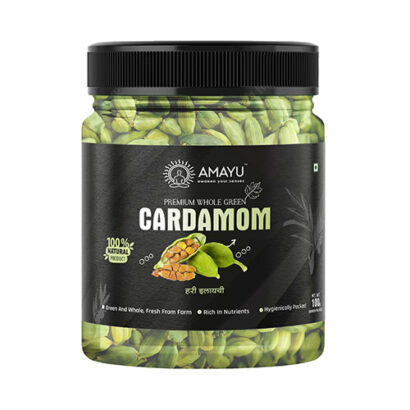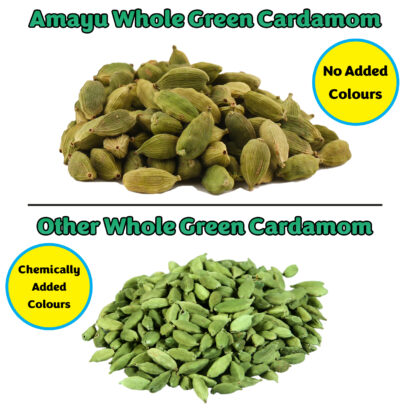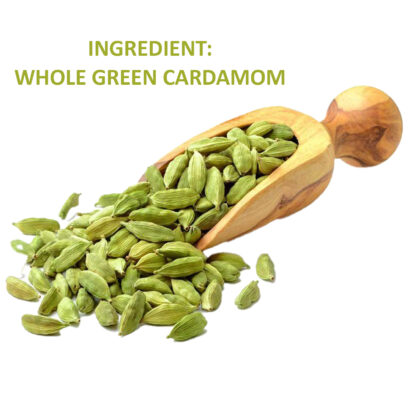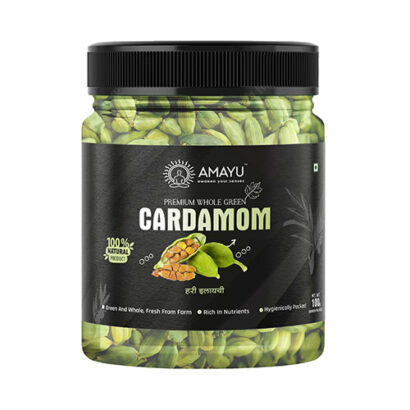 Whole Green Cardamom 100Gms
Whole Green Cardamom: is originated in Indian and is used worldwide, especially in tropical and subtropical Asia, in various sweet and savoury food creations, Taste Profile: the cardamom spice has a strong and pungent taste with a flavour of lemon and mint. The smoky element of cardamom makes this powder perfect for savoury dishes to add a unique taste, Health and Wellness: hari elaichi sabut is a preferred traditional medicine that is used as a digestive aid.
View More
FREE SHIPPING ON ORDERS ABOVE RS 499!
Elaichi is the best natural remedy to relieve the symptoms of cough, cold and congestion, Use: Amayu Whole Green Cardamom is one of the indispensable ingredients in Garam Masala spice mixture. It is largely used in savoury dishes like curries, stews, and lentils, flavourful desserts, tea, and other beverages, Product Specifications: the aromatic hari elaichi is available in 100 gram jar
Whole Green Cardamom | Hari Elaichi – The best one available in the market., 8mm in Size – Our Whole Green Cardamom/Hari Elaichi comes in the size of 8mm which is considered to be the highest grade. They come with more seeds inside and of highest quality., #

High Fragrance – You will instantly come to know the difference between us and others as soon as you open the packaging. The fragrance alone will lift up your mood., 

Hygienically Packed – We follow stringent packaging guidelines and ensure that our products are safely and hygienically packed for you.,

Cardamom has a lot of health benefits and may help you in relieving a lot of them like high blood pressure, inflammation, treat bad breath and improve oral health and many more. Cardamom also has antibacterial effects outside of the mouth and may treat infections., We do not use any kind of preservatives in our product
| | |
| --- | --- |
| Weight | 0.100 kg |
| Dimensions | 13.4 × 6.3 × 12.5 cm |
| color | Black, Blue, Gray, Green, Red, Yellow |