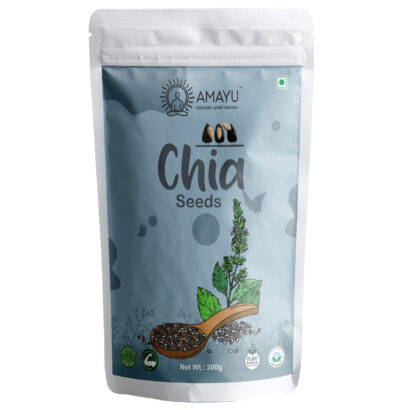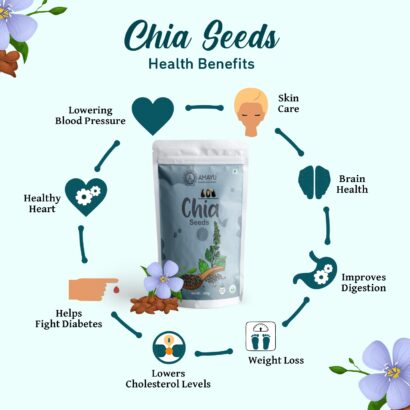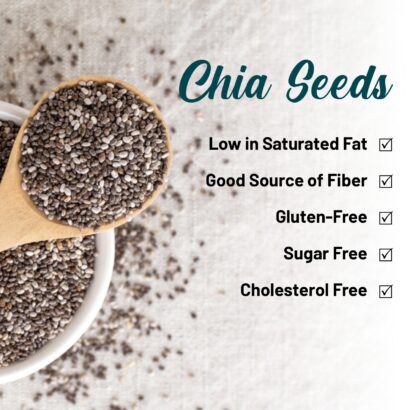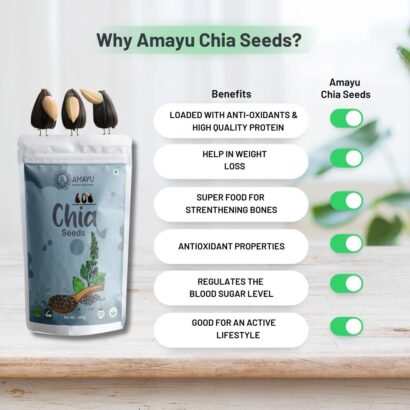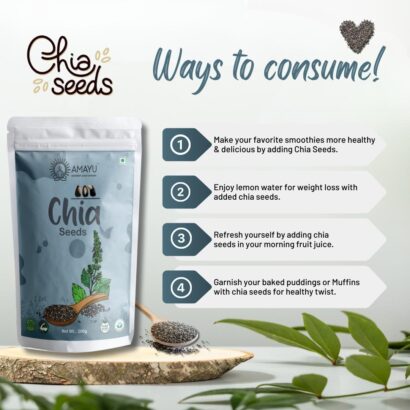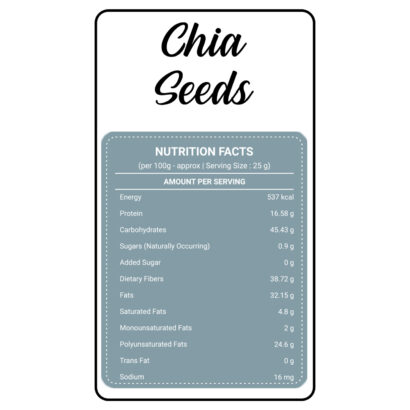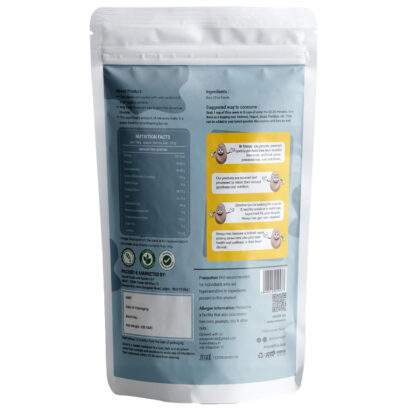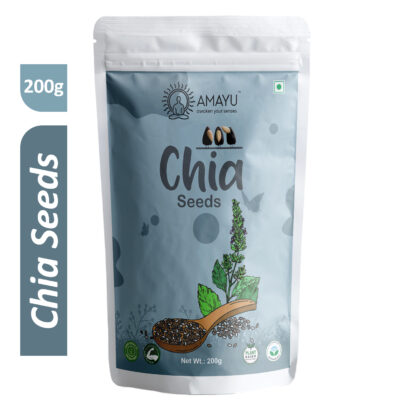 Raw Chia Seeds for Weight Loss 200Gms
Amayu Raw Chia Seeds helps in weight loss and helps to improve your digestive system. Consume raw chia seeds for weight loss every day. These organic edible seeds suit well with every snack or meal at any time of your day. These are perfect seeds for weight loss, which are 100% organic seeds and beneficial for glowing skin.
View More
FREE SHIPPING ON ORDERS ABOVE RS 499!
These seeds also prevent hair fall and are known for controlling blood sugar levels. Amayu serves its products to those who like enjoying the food in its very own natural form made of natural ingredients. No Fillers, no preservatives, nothing artificial. Add these to your oats, oatmeal, muesli, granola, flakes, quinoa, ice-cream, yoghurt to enjoy your important meal of the day.
Energy: 537 Kcal; Protein: 16.58g; Carbohydrates: 45.43g; Sugars (Naturally Occuring): 0.9g; Added Sugar: 0g; Dietery Fiber: 38.72g; Fats: 32.15g; Saturated Fats: 4.8g;

High in nutrients: Chia seeds are a good source of fiber, protein, omega-3 fatty acids, and various vitamins and minerals, including calcium, magnesium, and phosphorus.

May aid in weight loss: Chia seeds are low in calories and high in fiber, which can help reduce appetite, promote feelings of fullness, and support weight loss.,

May support heart health: Chia seeds are rich in omega-3 fatty acids, which can help lower cholesterol levels, reduce inflammation, and improve cardiovascular health.,

May help regulate blood sugar levels: Chia seeds are low in carbohydrates and high in fiber, which can help regulate blood sugar levels and prevent spikes in blood sugar.

In addition, chia seeds contain alpha-linolenic acid (ALA), which may improve insulin sensitivity and help reduce the risk of type 2 diabetes.

Raw Chia Seeds for Weight Loss with Omega 3 , Zinc & Fiber, Calcium Rich
| | |
| --- | --- |
| Weight | 0.200 kg |
| Dimensions | 13.4 × 6.3 × 12.5 cm |
| color | Black, Blue, Gray, Green, Red, Yellow |