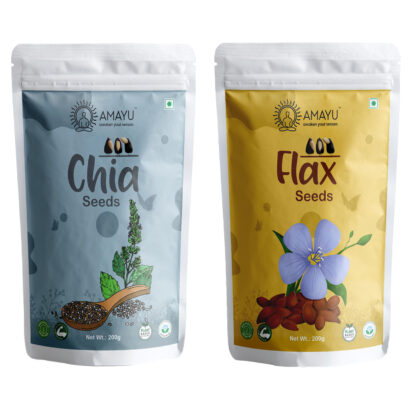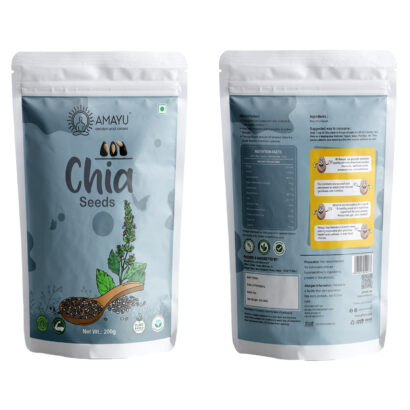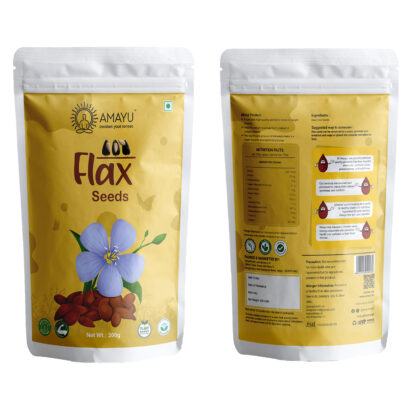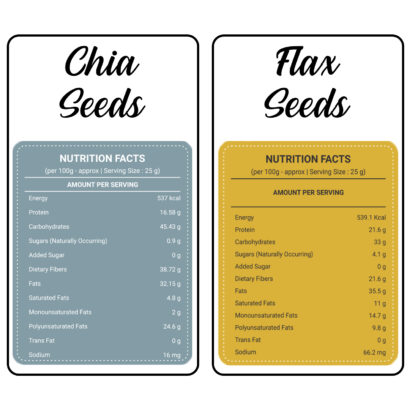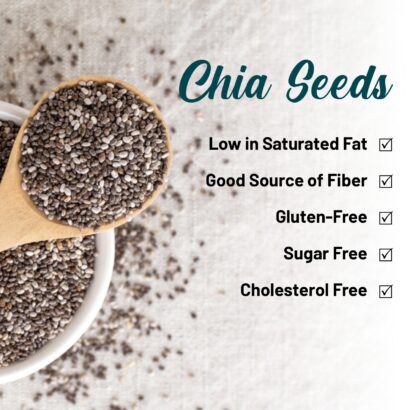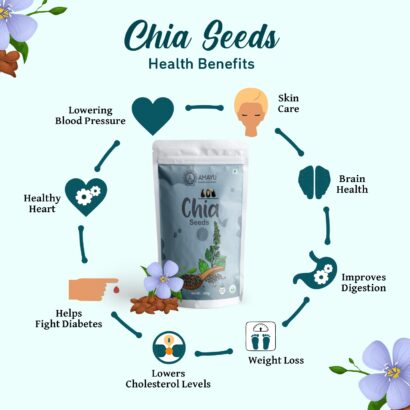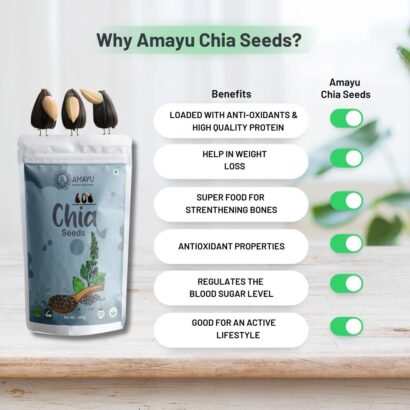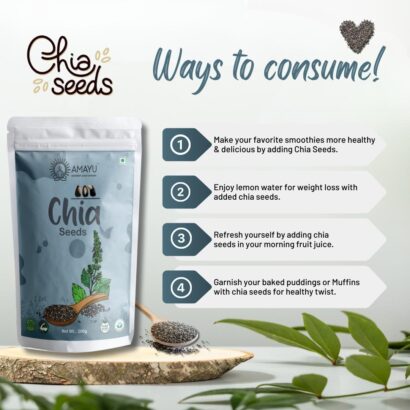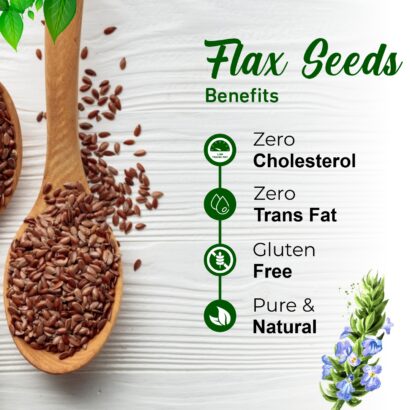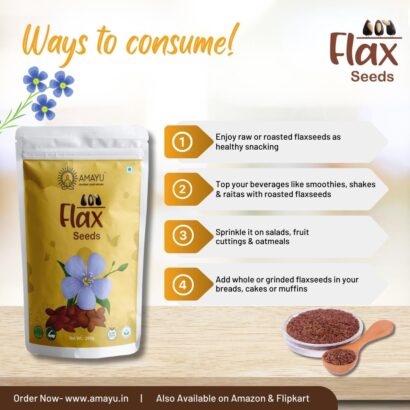 Raw Chia Flax Seeds
AMAYU Raw chia and flax seeds is brought to you by AMAYU. A pouch packaging is provided for packing the raw and whole seeds in a zipper closure. The seeds may be consumed either raw or by adding them to different foods. Consuming seeds gives enormous health benefits when consumed regularly.
View More
FREE SHIPPING ON ORDERS ABOVE RS 499!
Chia Seeds: Energy: 537 Kcal; Protein: 16.58g; Carbohydrates: 45.43g; Sugars (Naturally Occuring): 0.9g; Added Sugar: 0g; Dietery Fiber: 38.72g; Fats: 32.15g; Saturated Fats: 4.8g;
Monounsaturated Fats: 2g; Polyunsaturated Fats: 24.6g; Trans Fat: 0g; Sodium: 16mg,
Brown Flax Seeds: Energy: 539.1 Kcal; Protein: 21.6g; Carbohydrates: 33g; Sugars (Naturally Occuring): 4.1g; Added Sugar: 0g; Dietery Fiber: 21.6g; Fats: 35.5g; Saturated Fats: 11g;
Monounsaturated Fats: 14.7g; Polyunsaturated Fats: 9.8g; Trans Fat: 0g; Sodium: 66.2mg
Rich in nutrients: Both chia seeds & flax seeds are excellent sources of various nutrients, including vitamins, minerals, fiber, & healthy fats, which can help support overall health & wellness.,
May aid in digestion: Both seeds are high in fiber, which can promote healthy digestion, prevent constipation, & support gut health.
In addition, chia seeds can absorb water & form a gel-like substance, which can help promote regularity & reduce inflammation in the gut.
Flax seeds contain mucilage, a gel-forming fiber that can help keep stool soft & promote regularity.
May help reduce inflammation: Both seeds contain antioxidants & anti-inflammatory compounds, which can help reduce inflammation in the body & potentially lower the risk of chronic diseases.
Chia Seeds: Soak 1-1/2 teaspoon Chia seeds in 1/2 glass of water for 20-25 mins. Use them as toppings on porridges, ice cream, Oatmeal, yogurt. It can also be added to baked goodies
Flax Seeds: Consume as a snack, sprinkled over breakfast and soups or ground into a powder and added to food.
| | |
| --- | --- |
| Weight | 0.400 kg |
| Dimensions | 10 × 2 × 14 cm |